An artist of an inspirational talent, Luba Kostenko was branded an art prodigy whilst still attending the Fine Arts School in Leningrad, Russia. She won first place to the prestigious Academy of Fine Arts in Leningrad in 1965. With over 100 candidates per place, competition was fierce and of exceptionally high standard.
She was taught by the distinguished professors E. E. Moiseyenko, I. P. Veselkin, P. T. Fomin, D. A. Shuvalov and A. A. Mylnikov, among others. Copying the Old Masters at the Hermitage, the Russian icons and the works of Manet and Kandinsky at the Russian State Museum formed an integral part of Kostenko's training. In her final "diploma" year in 1971 Kostenko had already ventured outside the boundaries of traditional academic painting.
Her works demonstrated maturity, attributable to an established master and displayed a profound understanding of the difference between blind imitation and the conscious pursuit of academic traditions within the artist's own aspirations.
In 1973, Kostenko was invited to participate in an important exhibition at the State Tretyakovskaya Gallery in Moscow entitled "Self-portrait by Russian and Soviet Artists of 18th–20th centuries". Her work was exhibited alongside the outstanding artists of the past and was praised for its technical strength and innovative vision. In 1975, portraits by Kostenko were selected for an exhibition "Portraits of Contemporaries" at the Russian State Museum in Leningrad. Already recognised as a strong portraitist, Kostenko painted portraits of known musicians, actors and artists. Portraits of Evgeni Mravinski, Yuri Temirkanov, Valery Gergiev and Alexander Kantorov occupy an important place in her work. A composition called "The Orchestra", inspired by the Kirov theatre orchestra and painted in 1980 has been acquired by the State Museum of Fine Arts in Rostov-on-Don where it remains part of the museum's permanent display. A number of other art museums have acquired paintings by Luba Kostenko. Her composition "Family" is at the Pskov Museum of Fine Art alongside paintings by Vassily Kandinsky. The "Conductor", along with two other works by Kostenko appears next to Kazimir Malevich's work in the Serpukhov Museum of Fine Arts. Kostenko's paintings have been acquired by the State Tretyakovskaya Gallery and the Russian State Museum in St Petersburg and have been included in the Encyclopaedia of Masterpieces. A large collection of her works can be seen in the State Art Museum of Altai Region in Barnaul, the Theatre Museum in St Petersburg and the Museum of History of St Petersburg.
Kostenko's first solo exhibition was in 1979 in Leningrad and in 1984 she had a major retrospective exhibition in Tbilisi, Georgia. After that Kostenko began exhibiting her work in countries outside the Soviet Union, including shows in Vienna, Dresden, and Rio. In 1989 and 1990 her paintings were sold at auctions at the Galerie Drouot, Paris.
Described by art historians as having the vitality of Kandinsky's palette, the boldness of Modigliani's style and the virtuosity of the Old Masters, Kostenko's works are always recognizable thanks to her sharp, and at times paradoxical outlook on the world, and her ability to see the special and the unique in what she depicts. Kostenko's trademark style has evolved over the years and has earned her a reputation as an established master with a distinct personality. Her highly expressive sculpturesque language, be it in paintings or works on paper, flows from her confident ability to combine linear composition with a sharp perception of colour.
Since 1990 Kostenko had dozens of solo shows and participated in numerous exhibitions. She has been living in Western Europe painting, teaching and inspiring people to open their hearts to art. Her art lessons focus on the ability to bring out an inner sense of colour, which she believes every person possesses. She has created her own artistic style called "lubism" which forms the essence of her unforgettable works of art and provides inspiration to young and accomplished artists. Kostenko is sought after by private collectors and receives regular portrait commissions. Her paintings appear alongside the masterpieces of some of the most renowned artists of the twentieth century.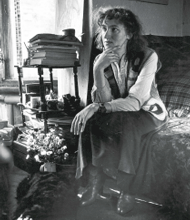 Photograph by Boris Smelov, 1972